Michigan Referee Site, Classes for becoming a Referee
Referee Schedule Click to view PDF
US Soccer Videos for Referees
WSSL's U9 & above Laws of the Game Coach Game Day Process
After the game reports for: JRSC, MSPSP and DA games
Weekly videos to improve as a referee, Yuya Kiuchi's videos.
Other League's Rules
Michigan Referee Re-certification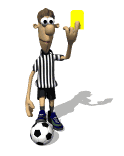 Training and Certification

The United States Soccer Federation (USSF) regularly holds clinics for Entry Level and Recertification of Referees. Anybody wishing to become a referee must attend a 16-hour entry-level class which is usually broken up into four 4-hour sessions held on consecutive weekends. Current referees must attend a 6-hour recertification class each year.
Entry-level classes are held at several locations during the months of January, February, and March. Recertification classes are usually held during November and December with a few sometimes occurring in January through March. Information on these clinics can be found on the MSYSA referee web site at www.msysareferee.net. After interested candidates have successfully completed the USSF training class, they should contact Bill Foss at (248) 349-8910.
Becoming a Referee
Basics
Becoming a Referee is a great way to contribute to the games in your community. You can learn more about the game of soccer, be part of the game in way that you haven't experienced, and earn money in the process.
Most referees work from 2 to 6 games a week. Demand for referees continues to outpace availability, especially for mid-week games. Scheduling of referees is arranged by field by each of several different schedulers. All games are assigned by telephone conversation, such that the referee is able to accept only those game assignments which conveniently fit into their schedule of other activities.
Referees are independent contractors, and must supply their own equipment, such as whistle, watch, uniform, etc.
Age / Experience Requirements
All referees must be USSF certified, must be at least 11 years old, and have prior playing or coaching experience -- adults are especially needed.
Pay
Starting pay for referees is $15 per game, increasing to $30 per game for WSSL games, based upon experience. To achieve pay increases, certain experience thresholds must be met. The pay scale for Premier League games ranges from $30 to $60 depending on the position (Center vs Assistant) and the age group of the players. Typically only referees with significant experience are assigned to Premier games.
Need more info about becoming a referee?
For further information about becoming a referee, please contact Steve McGuirk at: steve ( at ) mcguirk.us